Because I've been behind weeding through my email, this deal is about to run out . But don't fear, it's not over yet! Until August 14th you can pick up a copy of LC Cooper's new book "The Diary of a Reluctant Vampire" for FREE by entering the following code on the Smashwords checkout page:
SV33T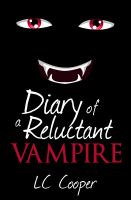 Eugene faces more than the usual challenges of a young teen. He's given a very short time to decide whether or not to become a vampire. He trips into love, but is it too late? What will his stepmother and stepsister say if he joins the forever-damned? The perks are incredibly tempting. Oh, what's a goofy little kinda-vampire to do?
I already grabbed my copy, so don;t forget to get yours.