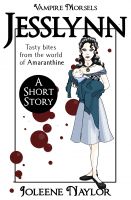 The tenth Vampire Morsel, Jesslynn, is now available as a free read on Smashwords.com.
Short Story. Not for children. Part of a collection called Vampire Morsels about vampires from the Amaranthine universe. When Jesslynn's baby gets sick, she sees only way to save him; by discovering whatever dark ritual keeps their neighbor, Jorick, healthy and eternally young. She gets more than she bargained for. 
It's still pending approval for the extended distribution, but once it is approved it will filter through to Barnes & Noble, Kobo, etc.  Ashes of Deceit got approved quickly, so hopefully only a couple of weeks.
This is the last freebie I will post for awhile because later this month I will publish the Vampire Morsels collection featuring all seventeen stories in one book.  And, yes, I am going to charge for it, which means Amazon will finally get the Morsels.

Related articles