Today's excerpt comes from the Historical Romance Bid Not, for My Love by Darcee Tana
When Baron Raul of Kinsborough won a woman at a sale, he never knew, he would enter his castle with her as his bride.When Emma of Rosemund, fled from home, she never expected, she had commenced her journey to love. The first had wanted to become a Templar Knight, the second was on her way to the Abbey. But destiny had other ideas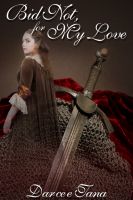 "What happened at yer fathers?" Peter queried.
"My father wishes to see me wed. Nothing has changed much where that is concerned" Raul answered, once again bereft of emotion.
"I heard, there was disagreement" Peter remarked
"How is it, the news has reached before I did?" Raul grinned.
"Ye left yer squire behind when ye left in a rage. Yer father delivered him, just moments ago. We were about to set off with the others, when the guard saw ye both riding in. We worried a mishap had occurred to cause yer delay" Rowan filled in.
"Aye! My father, it is a wonder he did not get the bride delivered as well" Raul scoffed
"I must be getting old, Raul" Peter smiled "Ye bride is with yer father, yet yer betrothed is here with ye? What brings about this strange situation?"
"We will talk inside. For now, make sure all the guards know, that the lady is not to leave the castle. She is to be kept in sight, always. If she leaves, is taken or if anything happens to her, it will be at the cost of their lives" Raul was stern in his command. He then made his way towards the great hall.
"My Lord!" Sir Rowan called after him
"What is it, Rowan?" Raul inquired
"Does 'our lady' know that she is yer betrothed or have ye forgotten to inform her of it?" The question was serious, but the grin on Sir Rowan's face could not be held back.
Raul was silent a moment and then he said "She will"
"And does she know to who she is to be betrothed to?" Sir Rowan asked
"She will" he repeated and with that reply he marched inside.
*********
You can get Bid Not for my Love on Smashwords