it's time again for Six Sentence Sunday, the awesome blog event where writer's share six sentences from something they've written.
This week I am taking a break from Ties of Blood to share a snippet from Adam, a short story available for Free on smashwords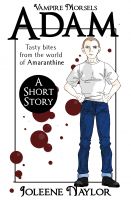 He'd heard something, but he didn't know what, only that it had been something; something that shouldn't be there. The tiny hairs on the back of his neck stood up, and a sudden, unexplained chill danced down his spine.

He walked towards the end of the alley where he instinctively felt the noise had come from. A row of weather stained garbage cans shone dully under a flickering light. The effect was eerie, but there was nothing there.

And then the light went out.
Thanks for stopping by, and be sure to check out the other great participants!  Also of note, if you missed the announcement, sign ups will now start Tuesday instead of Wednesday because of the number of participants! That means lots of good reading!