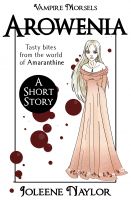 Now on Smashwords, the third short story in the Vampire Morsel's Collection.
Arowenia, Claudius's child bride for eternity, lives in a gilded cage. She moves through a world of opulence and excess, shielded from Claudius's political enemies, until a waring coven's scheme engulfs her.
You can also find Arowenia in Shades of Gray, the first in the Amaranthine series.