I got this in my inbox yesterday and, with permission, am passing it on.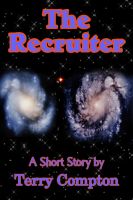 To celebrate the upcoming release of my new novel 'The Alcantaran Key', I am giving away a free copy of my short story 'The Recruiter.'  Find this story on smashwords.com.  Use the code AL63X at checkout.  Hurry because this coupon in only good through May.  Enjoy and share with friends.
The blurb from Smashwords:
All Kota and Zibo wanted to do was to start a family and to make a living, using the space ship freighter that Kota had salvaged. Some idiot bureaucrat wanted them to be super spies for the Charter Alliance. They turned him down! His boss was more persuasive but they still didn't want to be spies. They just wanted to trade. Circumstances didn't give them a choice.
Okay, it's not vampires, but it is Sci-fi, and though you might not know it I'm also a sci-fi fan.  If you like sci-fi, too, check it out, share with friends, you know the drill 😉
Get it on Smashwords:  https://www.smashwords.com/books/view/46845
Freebie Code: AL63X