Each weekend I let Katelina, the main character from my Amaranthine series, conduct interviews. I use special author mumbo jumbo magic to allow her to talk to characters from other authors' books. However, this week Katelina is busy so I'm going to fill in for her!
Today we're interviewing Ron Calvin, Tik Michi and Gus Ugde Ghaolh from Terry Compton's Alien Abduction (which is free on Smashwords through July!)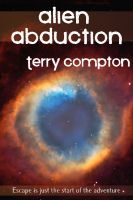 Joleene:  "Tell me a little about yourself, what do you look like, where do you live, what book are you in."
"Well, I guess I can start.  I'm Ron Calvin from Kalispell, Montana right here on Earth.  I've been traveling with these two super-heroes for almost three years now…."
"Big boy, can you read lips?  Pbbbt!" Tik interrupted.
"You two better behave.  Joleene is trying to do a serious interview," Gus exclaimed.  "I'm Gus Ugde Ghaolh and I'm from Prokne in the Coddington's Nebula.  I'm a Sandghost and I have to put up with this all the time.  Ron is much more involved in rescuing planets and damsels in distress than he lets on."
"Yeah, the two big boys keep me hopping to keep up.  I'm Tik Michi from Vesta IV in the Melpomene Galaxy.  As you can see, I'm the little one of the bunch.  Gus is over seven feet tall and must weight close to 400 pounds.  Ron is six feet one and I think he is almost 250 pounds now…"
"Wait a minute, I've been losing weight ever since we picked up Dolores and I've been eating right.  I'm in really great shape for someone sixty-three years old.  Besides, appearances can be deceiving.  Look at you; you're only thirty inches high when you walk on two legs and a little over twelve when you walk on all four paws.  You could be mistaken for a small dog on Earth…"
"Yeah, until she opened her mouth.  Then they would have no doubt that she isn't from Earth.  If they said something to her that she didn't like, she'd probably bite them," Gus said with a grin.  "Joleene, just watch her tail.  If it stands straight up in the air with a little curl on the end, that's the 'fight mode'.  Someone is about to be in trouble."
"Keep it up and we know who will be in trouble.  Stick your finger over here and I'll show you a thing or two," Tik said, but she grinned and ruined the threat.  "You have to be careful with these big sand creatures.  Gus looks like someone started carving him out of rough sandstone and forgot to smooth out all the corners or finish sanding the skin but when you need someone to move heavy things, those broad shoulders and big arms come in handy.  Look at the size of those hands.  Its hard to believe that something that big can make machinery work like he does.  Several bureaucrats have learned the hard way that those hands can help uncooperative bureaucrats change their minds on a lot of things."
"Tik, we weren't going to talk about that.  Remember?  One of those involved might read this blog and be embarrassed.  What's your next question, Joleene?" Ron changed the subject.
Joleene:  "How do you evolve during the course of the story/series?"
"I think we become a team during Alien Abduction.  Later in The Alcantaran Key, we become a family or at least we are joined by Gus' and Ron's families…."
"My daughter Xator and Ron's granddaughter Jessie will never be the same since they met up with Tik.  I must say that I don't worry as much about their safety anymore.  She's taught them some nasty self-protection ideas.  She has taught both of them to be pretty fair pilots as well," Gus replied.
"You're getting off the subject.  How did we evolve?  We are a team now and we have grown in self-confidence in what we do.  We have decided to be space traders around the universe and to explore new planets.  We actually have a plan sometimes now instead of just firing from the hip," Ron steered them back to the question.

Joleene:  "Do you have an enemy or nemesis?  If so, who are they and how did they become an enemy?"
"The Bugs," the trio said in unison.
Ron explained, "The Bugs are Challeka Traders of Elgebar V.  They are like giant cockroaches that can walk upright.  They stand almost 4 feet high and they wear a robe with a hood that covers them from head to toe.  They have a full mask inside the hood to block all light.  They kidnapped the three of us off our home planets and forced us to work as slave labor until we escaped.  We will do everything we can to stop this…."
"Yeah, and I don't care if they read this and get their feelings hurt.  If I get half a chance, I'll do more than hurt feelings.  They are the sewer crawlers of the universe and deserve to be squished under foot," growled Tik.
"I agree with Tik.  If we can help it, they won't come anywhere near Earth, Vesta IV or Prokne ever again.  We'll try to stop them wherever we find them.  Read this Bugs, and be warned to stay away from us!" Gus declared.
Joleene: "I can see none of you like them.  What is the biggest challenge you face in the story?"
"That's easy.  At first it was the escape from the Bugs and now it's trying to figure out the Galactic Antiquarian or Auntie as we call her.  She's our space ship which was built by the Alcantarans.  They disappeared roughly 25,000 years ago and left a big mystery of what happened to such an advanced race.  Auntie has features which are even more advanced than anything our friends the Dar Es Salaam traders have.  It seems we learn something new about every day," Tik jumped in.
Joleene:  "How about you two?  Do you agree?"
Ron and Gus nodded yes.
Joleene:  "What is the one event that you feel has helped to shape your personality?"
Ron thoughtfully said, "I think the struggles we went through to get ready for the escape and then the struggles to stay free.  Gus' wife Kikula says that we are stronger than the sum of our beings and I have to agree.  We have built a team and relationship that was forged in the fire, so to speak.  We have fun with each other but don't try to mess with any of us.  You will get all three responding."
"I agree.  We are one team and even their families are now my family," Tik replied.
"Me, too." Gus said.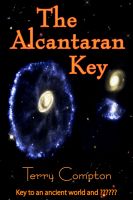 Joleene:  "Are you involved in a romance?  If so, with whom and what is it about them that you find appealing?"
Gus started, "My romance is my wife of seventeen years.  She is the light of my life and I try to show her all the time.  I'm just sorry that she had to be alone for four years before I could get back to her."
"Mine is my wife Jill.  She was my high school sweetheart and we've been married for forty-three years.  I only was away for a little over two years, but now we are together in Auntie and that's the way I plan to keep it."
Joleene:  "What about you Tik?"
"I don't have any romance in my life.  I'm too busy working on the computer on Auntie trying to unlock secrets."
"Oh, how about Sim Sulawesi?  He sure gets this funny grin every time he's around you," Ron teased.
"I seem to remember someone almost breaking the sound barrier in Los Angeles trying to get to him when you heard he'd been attacked," Gus joined in.
"I was only in a hurry to check on the kids," Tik protested.
"Didn't Xator say something about being snapped at when she didn't carry Sim to the fliter?  He wasn't even injured.  It was the thug's blood on him.  And who was it that had to keep an eye out for him when we captured those pirates' space ships?" Ron snorted.
"He's just a scientist studying the Alcantaran relics and; besides, he's not even a full time scientist.  He teaches at a college on Vesta IV and does his anthropologist studies on his own time," Tik sniffed.
"But he sure knows his sword fighting.  I will admit that he's helped all the rest of us even if you won't," Ron grinned.
"I will admit that and also that he's pretty good with computers.  He can't keep pace with me but for a scientist he doesn't do too badly," Tik agreed.
Joleene:  "It seems there is a developing story here.  What is the one thing you want the most in the whole world?"
"The Bugs to stay away from our planets," the trio said in unison again.
"I would like to see our planets have the opportunity to expand into space.  We as a team have just barely started and have already seen some wonderful places.  Just look at the covers on our books to see some the beauty we've already seen," Ron said.
"I want my kids to have the opportunity to travel in space if they choose.  So far, they are having a blast and have been a big help.  Hopefully, more of my countrymen will want to go into space later," Gus said.
"Right now, I want those secrets in Auntie's computer opened up.  I do want my planet to have access to the stars, too," Tik said.
Joleene:  "If you could say one thing to your readers, what would it be?"
"Well, I would warn them not to start these stories at night if they have to get up the next morning.  Some of our adventures get pretty intense and you hate to put them down," Ron explained.
Joleene:  "Do you two have anything to add?"
Both shake their head no.

Joleene:  "If you could say one thing to your author, what would it be?"
"Quit putting layers in the computer and let me solve the secrets," Tik said.
"Make sure our families stay safe," Gus said.  Ron agreed.
Joleene:  "Do you think there are questions I should have asked or do you have comments?"
Gus said, "I noticed you looking at our weapons and didn't ask about them.  I just want to explain that we wear them to save the Bug's allies lives as well as other evil doers' lives."
Joleene:  "How do they save someone else's life?"
"If we weren't wearing them, they might try something stupid.  When they see us wearing them they are hesitant to start anything.  If they've heard any of the stories, they know better than trying anything.  If they see them and still start something, we improve the universal gene pool by eliminating undesirables."
Ron said, "You didn't ask how you could talk directly to Tik and Gus.  Their language is normally beyond our ability to speak or hear.  We have a personal shield that also has a built in translator.  These were made by the Alcantarans and made our lives much easier once we discovered them."
Joleene:  "Tik, any last words?"
"Just remember, 'Well behaved women seldom make history or headlines.'  I think the women on Auntie will make both headlines and history.  Thanks for having us on your blog."
Ron and Gus chimed in, "Yes, thanks for having us here."
(This very fun exchange was written by Terry Compton!)
Thanks so much to Ron, Tik and Gus for stopping in. You can find them in Alien Abduction available on
Amazon: http://www.amazon.com/dp/B004TAQY2K
Smashwords: http://www.smashwords.com/books/view/48718 – where it is free for the month of July!
And a special thanks to Terry Compton for playing along and writing up this great exchange!
If you're an author and would like your character(s) to be interviewed by me, then check out this very cool page that has all the details: