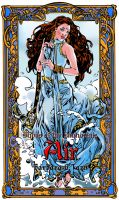 A good fantasy book should have six things.
1)      A diverse world with distinctly different cultures. Air has this. Silvery Earth has no only different magical races (each with their own customs and ideals(, but also distinct cultures of human occupants, as well. Like Tolkien and Middle Earth, Barbara Tarn has been working on Silvery Earth for many years through different stories and characters to create a world of great depth.
2)      A large cast of diverse characters. Air also has this. From the dark, brooding human Kumar, to the Sila Winged Jesminder, to the Naveen, the captain of the Guard and beyond, the story is told through a host of characters. This allows the reader to see all of the subtle pieces to the puzzle and watch as they fall into place to complete the full picture.
3)      Magic. Air has this in the form of the Magical races; winged Sila, Fajrulo who turn into dragons,  Waiora who live under the water, not to mention the Immortals themselves: Earth, Air, Water, Fire, and Ether.
4)      Something evil to fight against. There has to be a bad guy for the heroes to band together and defeat. The sect, a group of people who use blood and sex to gain power from the dark pond, fit the bill nicely. Though Ramesh, the high priest, is suitably twisted, I think it is Keiko who wins the prize for the most sadistic.
5)      Some romance. Whether it's hinted at behind the scenes or out where you can see it, romance is a must. Air has several romance subplots, though to keep from spoiling surprises I won't say who they are. I will say Kumar's final decision was the most satisfying, though.
6)      Fighting. Wars. Death. Air has just enough of this to make the world believable, but not too much to make it seem gratuitous or overtly bloody.
This book has just the right mix of twisted, darkness and sweet light to make it a real page turner. I like that Barb didn't pull punches when it came to the sect. They did despicable things and, though the actions are not detailed blow by blow, there's enough that you know how atrocious their actions are.  I can imagine some women may take exception to the scene with Indira and Prince Anjan, but this is a fantasy novel, and fantasy societies are based on medieval societies. Social attitudes were very different then, and I was also glad to see that she stuck to that, too. I also have a deep, personal admiration for Ms. Tarn as I know English is not her first language. I can't imagine the challenges of writing novels in another language!
In closing, did I enjoy this book? Yes! Do I recommend to to fantasy fans? Yes! Am I going to read the rest of Silvery Earth (including the short stories)? Yes!  And, I'm looking forward to it!
get yours :
smashwords: http://www.smashwords.com/books/view/50628
amazon: http://www.amazon.com/Books-Immortals-Air-ebook/dp/B004UN4I1K/
paperback: http://www.lulu.com/product/paperback/books-of-the-immortals—air/16127364?