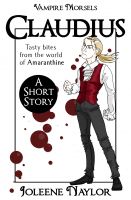 The seventh Vampire Morsel, Claudius, is now available as a free read on Smashwords.com.
Short Story. The seventh in a collection called Vampire Morsels about different vampires from the Amaranthine universe. Claude wants revenge against his father; a nobleman who abandoned him as a baby, and covets his father's charge, the beautiful Arowenia. Now that he's been given the gift of immortality, he has the power to take both. You can also find Claudius in Shades of Gray by Joleene Naylor
(I have to admit this is my favorite of the ones on Smashwords!)
It's still pending approval for the extended distribution, but once it is approved it will filter through to Barnes & Noble, Kobo, etc.  Mark Coker recently posted a blog discussing improved approvals and shipping to be implemented this year, so hopefully it will go through quickly. I know those guys are pretty busy over there!
I am working on Kariss's story right now and hopefully will have it done and posted in the next couple of days.