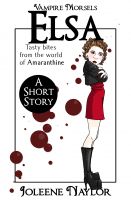 The eighth Vampire Morsel, Elsa, is now available as a free read on Smashwords.com.
Short Story. Not for children. The eighth in a collection called Vampire Morsels about different vampires from the Amaranthine universe. Twenty year old Elsa is devastated when her "true love" remorselessly skips town. When she sets off after him, she finds more than she bargained for. You can also find Claudius in Shades of Gray by Joleene Naylor. 
It's still pending approval for the extended distribution, but once it is approved it will filter through to Barnes & Noble, Kobo, etc.  
You might notice the "Not suitable for children" tag. Yeah. I checked out my Barnes & Noble reviews today and for some reason several of them are complaining that these are not children's stories. I'm not sure why anyone would think they were. I have also added "Not suitable for tweens" to my smashwords descriptions for the series because there are several posts asking about this (which is odd because I don't see a way to reply to the questions). The simple answer is "NO! these are not tween books!" However, I have to admit if I had a tween and they really wanted to read it I'd let them, but then I was raised in a liberal household 😉
I am working on Kateesha's story right now and hopefully will have it done and posted in the next couple of days. 
Related articles