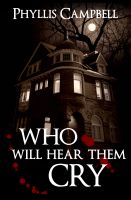 Kate's world is secure, a loving husband, a baby on the way, and a partnership in a small town detective agency, until she returns home to a scene of horror. Her husband lies dead in a room covered with his blood. This is the last thing she will ever see with her physical eyes, as the killer emerges from the shadows to hurl a jar of acid at her face, killing her unborn child, and leaving her totally blind.
He had warned her not to testify against his son, the psychopath who called himself the messenger of the lord. If she had only listened! Her adjustment to her new world is excellent, they tell her, but no one knows the paralysis that holds her spirit in bondage as her guilt forces her into a world of computer games where she can control life and death on the screen, a world where she can't hurt nor be hurt.
Before you begin to read close your eyes, listen, smell, touch. Is that a stealthy footfall? Is that fragrance coming from someone waiting in the dark? Does that hand suddenly touching you belong to a friend or an enemy?
Now you're ready to walk with Kate through her world of darkness as she follows the trail of a series of fatal accidents in a private school for disabled children. She resists the journey that Brett, her former partner has asked her to take, but something, call it determination, call it love, call it what you will, pushes her from her world of computers into the real world where danger waits.
Walk with her through the dusty attics of the school, to the state mental hospital, to a country funeral, and along a narrow ledge with a sheer drop on one side and a raging fire on the other. Feel her bitter sweet joy as she is enveloped in a man's arms again. Her world will never be the same, but it is her world, and it is good.
Available now at
Smashwords: http://www.smashwords.com/books/view/149753
Amazon: http://www.amazon.com/Who-Will-Hear-Them-ebook/dp/B007WMRRRS
*******************
Phyllis Staton Campbell was born in Amherst County Virginia, and moved to Staunton when she was seven, where she graduated from the Virginia School for the Blind, where she later taught, and where she still goes three afternoons a week to give private piano lessons. She serves as organist at Faith Lutheran Church in historic down town Staunton.
She has been writing professionally since the 60's, and in addition to short fiction and nonfiction for numerous magazines, she has written two books, one of which was published in China and the United Kingdom as well as in the US. She writes two bi-monthly columns for "Our Special Magazine" published in Braille by National Braille Press. Who Will Hear Them Cry is her first digital book.