Yes, it's time to start finding gifts for friends and families. Why not make it easy this year?
Stop shopping until you drop. This year, support Indie Authors. Through November and December several of us will be promoting Indie Authors' books along with our own. It's so simple to purchase an e-book these days. You just need the recipient's email address to buy a gift from either Amazon, Smashwords, or Barnes and Noble. As our gift to you, some of us will be selling at just 99cents, so take advantage of the holiday prices to load up your friends' and families' libraries. And while you're at it, why not grab yourself a copy?
Today I am featuring Lowell Forte's holiday story The Mystery of Santa's Watch. This isn't a sale alert, but a new story alert.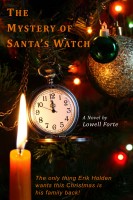 A Thanksgiving night crash on the icy and infamous Dead Man's Curve leaves Erik Holden an orphan and hospitalized, mute with the guilt that he caused the crash. Police Sgt. Frank Donovan investigates his suspicions that a hit-and-run driver was responsible. Mr. Nicholas, the hospital's roving Santa, lends Erik a beautifully ornate pocket watch and Erik soon realizes that the family depicted on the watch case is his own. Almost by accident he discovers that the watch has special powers, but are they powerful enough to help him get his family back? Can they undo such a horrific loss? Before he can find out, the watch is stolen and in a race against time, Mr. Nicholas convinces a very skeptical Sgt. Donovan to help locate and recover the watch and get it to Erik before its powers terminate and Erik loses his family forever.
BUY LINKS:
smashwords: https://www.smashwords.com/books/view/491733
Happy Holidays! And if you know of a great holiday ebook deal and would like to get into the holiday spirit please leave a comment and let us know!