Yes, it's time to start finding gifts for friends and families. Why not make it easy this year?
Stop shopping until you drop. This year, support Indie Authors. Through November and December several of us will be promoting Indie Authors' books along with our own. It's so simple to purchase an e-book these days. You just need the recipient's email address to buy a gift from either Amazon, Smashwords, or Barnes and Noble. As our gift to you, some of us will be selling at just 99cents, so take advantage of the holiday prices to load up your friends' and families' libraries. And while you're at it, why not grab yourself a copy?
Today I am featuring Steve Evan's brand new thriller Attila's Angels available for $3.99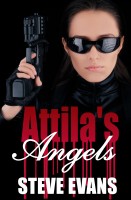 As the search for Attila's tomb gets into gear, rivals circle with murder in mind. The body count mounts but things go a little bit strange when ghosts connected to the prize begin to interfere with the living.
Since the description is so short, I'll add my review!
Terrence is elbow deep in the search for the legendary – and lost – tomb of Attila the Hunn. He and his partner Simone have a clever method that is sure to yield results – that is until his dead wife Zoe returns and throws a cog in the works.
As a ghost, Zoe can come and go when she pleases. But she's not the only one. In the afterlife she's found herself trapped with a little group of spirits including a former nazi, a dead Russian commander and none other than Attila himself. What is it they all have in common? The missing tomb of course!
Terrence soon learns that he's not the only one hunting for it. A cast of characters, both living and dead, have great interest in the missing tomb, said to be made of gold and silver. It's a the ultimate treasure hunt, and it just may drive the participants to madness or death.
This is one of Steve Evan's best books, in my humble opinion. It has everything; ghosts, violence, sex, blood, murder, mystery, and history. He has woven together several different characters, and time lines, to create an exciting tapestry that kept me turning the figurative pages. Five stars!