Hello! My name is Katelina, and welcome to Weekend Character Interviews. Using state of the art-mumbo-jumbo author magic, Jo has temporarily bent the laws of fictional space and time to allow various literary universes to converge long enough for me to ask different characters a few questions. Since I spend a lot of time in the Amaranthine series quizzing vampires on what they're doing, where they're going and why, Jo thought I would be the perfect interviewer.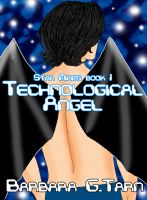 Today we are interviewing Kol-ian from Barbara Tarn's Sci-Fi/Fantasy stories Technological Angel and Mind Link..
Katelina: Tell me a little about yourself.
Kol-ian: Hello, my name is Cole – well, that's what I'd say if we met somewhere on your planet, actually. If we got to chat a little, you'd probably manage to find out my real name is Kol-ian and that I'm a Sire – or alien Humanoid. I'm a telepath. I reached your planet in 1933 and left in 1982. I'm currently orbiting around Earth and hacked through your internet to chat with you. My main physical feature is black bat-like retractile wings, hence the definition of Technological Angel. That's me and the title of the book, the first of the Star Minds series by Barbara G.Tarn out at the beginning of December in e-book format – for the print version please be patient until the new year.
K: Did you enjoy your stay on Earth? How well do you get along with Earthlings?
Kol-ian: Yeah, I love Earth's music. Do I get along with Earthlings? We're very much alike. I blended in perfectly during my stay. Although I have "something" that makes me irresistible to you all – but don't tell Daniele, he still thinks he's Casanova, so he'd never admit he likes me!
K: Why did you come to earth?
Kol-ian: A broken heart. I had a crush on a winged being you'd call angel (he has white feathered wings, but he's probably a little too dark-skinned for your Christian god) but is actually an alien hybrid (half Humanoid and half Carian – they're the bird people, FYI). He's gorgeous, but also heartless. But they tell me I'm heartless too, so I guess I deserve him…
K: So you're not in a relationship, then?
Kol-ian: Not in this book. Okay, sort of. Before leaving Earth I met Chantal in Paris, France and she asked me to take her to the stars, which I did. She loves me, but I can't say I love her. Hence they tell me I'm heartless. I'm not. I'm still recovering from my unrequited crush for the hybrid, that's all.
K: Do you have an enemy or nemesis?
Kol-ian: In Earth years I was 20-25 when I lived on Earth, and my nemesis was my father, no, actually, my whole family, damn them! Heartless control freaks all of them!
K: So is your biggest challenge dealing with your family, or something else?
Kol-ian: It's to try getting rid of invulnerable people – or better, people with genetically reinforced skin. You might end up chased all over the galaxy and killed by a bounty hunter like my sister's father-in-law!
K: Wow, that sounds pretty dramatic. Are those events that helped shape your personality, or is there something bigger?
Kol-ian: That would be a big spoiler… When I left your planet, I wasn't really thinking about revenge or anything, but then that happened and sent me on the warpath… I couldn't forgive, no way!
K: What is the one thing you want the most in the whole world?
Kol-ian: I don't know. At the moment I'm simply grateful they didn't lock me in a prison forever. And I'm kind of sick of seeing people falling in love around me.
K: Well, maybe if you weren't heartless *cough* no, no I didn't say anything. Um.. where am I? oh, yes, if you could say one thing to your readers, what would it be?
Kol-ian: Please come and meet my crew! I stole an abandoned starship back in 1982, had a complete makeover done and called it Falstelo, which means Shooting Star. I have "hired" (we work together and I don't really pay them, we earn our living as adventurers and rogues) a female cyborg, a mutant, two Earthlings (Chantal and the very Italian latin lover Daniele – actually, he's a sci-fi geek, LOL) and more came on board later, so come over and visit. Of course you'd need a space shuttle, try asking the guys at www.citizensinspace.org, they look for volunteers for orbital flights – that's all you need for now! But hurry, as we're supposed to go back to Marc'harid (my home planet) soon…
K: Are they in the next book, Mind Link, too?
Kol-ian: Yes. If you enjoy Technological Angel, stay tuned. Star Minds is a series, so you will have more. We've been tormenting our Author to write it down for a few months now (hence her fantasy world suffers, mwhahahaha! We stole all her free time!). I mean, she already wrote a couple of versions in the past (in Italian), but she's finally fine-tuning our adventures and finding more to say about us – better late than never.
In fact she might copy your author at some point, and add short stories about secondary characters when the main storyline is done. I'll let my future lover answer these same questions and tell you more about the rest when book 2 comes out (just before Christmas, so not a very long wait)!
K: and speaking of authors, do you have anything to say to yours?
Kol-ian: I know what you plan for me and my soon to be lover and I hate it! You're the true Master Sadist, you wicked Author!
And with that we're out of time! You can find Kol-ian in Barbara Tarn's upcoming Sci-fi/Fantasy Mind Link as well as Technological Angel available at Amazon: http://www.amazon.com/Technological-Angel-Star-Minds-ebook/dp/B00AGHJO0O/
 & Smashwords: http://www.smashwords.com/books/view/260657
Also stay tuned for book 3 – The Slave Trader, or maybe some Star Minds snippets on barb's blog that will give you insight into the characters past.
And a special thank you to Barbara Tarn for playing along!
If you're an author and would like your character(s) to be interviewed by me, then check out this very cool page that has all the details:
https://joleenenaylor.wordpress.com/character-interviews/