Today's excerpts are from Breaking the Silence by Jesse C. Rice-Jones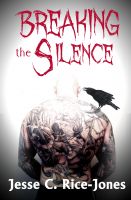 For the curious this book is an in-your-face expose' of actual events and activities not generally discussed in a public forum. For those prepared to embrace the mysterious it offers glimpses into the unknowable. As regards inspiration, the text implies that the search for inspiration is an individual journey that can not be universalized.
Too soon circumstances taught me that an imaginary father, no matter how idealized the image, can never be enough. Yet, that same positive image I had cherished made it possible for me to finally accept and even to love my father in all his frailty, body and soul. I thank my mother for not tarnishing my conception of my absent father. And by some harsh perhaps twisted logic, I must also thank my father. His absence allowed me to walk on the wild side. Brutal as that path has been, I like where it has taken me. And yes, I am still walking. So come now, walk with me awhile…
…
My mother, my sister Naomi, and I attended my father's memorial service. There were many others–friends, patrons, gallery owners, and fellow artists. They had brought paintings and sculptures of his they'd collected over the years, as well as many words of love, admiration, and amusing anecdotes. Finally, my father's best friend at the end of his moving eulogy pointed to my sister and me saying, "Peter, to his great loss, neglected to acknowledge his best work." All eyes turned to us. For a moment we became part of the exhibition of collectables. Most people in that room hadn't seen or heard from Peter for years; most had no idea that he had children and that two of them were in their midst. My sister wept. I took her hand and we went out into the freshness of the surrounding May gardens. A crow was waiting for us.
You can get Breaking the Silence from Smashwords: https://www.smashwords.com/books/view/421475
************
Jesse C. Rice-Jones is a native of Vancouver, Canada. He grew up without a television. Instead he mastered tree climbing and read The Lord of the Rings, Sherlock Holmes, The Little Prince, The Hardy Boys, Robin Hood, and Eric the Viking, among others, by the age of twelve. He has worked in the film industry and coached basketball to youths. He is currently working as a personal trainer. He is passionate about Martial Arts, music, coaching, and writing.
find out more at https://www.facebook.com/#!/BreakingTheSilence.JesseRiceJones