It's time again for Six Sentence Sunday, the cool blog group where participants post six sentences of something they've written. Be sure to check out the other participants.
I usually set this up ahead of time but with holidays and bad weather got behind this week, so you're getting six sentences from Arowenia, the free short story I uploaded to Smashwords the other day.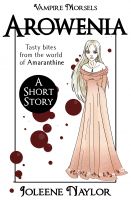 She leaned delicately on the veranda railing and closed her eyes, savoring the early summer evening. The smell of fresh cut grass wafted on the breeze, and she could hear the bugs and the bullfrogs calling to one another. It reminded her of another time and another place; a world before Claudius and his "brothers" stormed her father's castle and butchered everything in their path. Sometimes, in her dreams, she could still hear the guards' screams, but she was numb to them now. It was so very long ago, and time healed all, or how else could they continue living year after year, century after century?
"Oh, uh, hey."
(at this point she looked up to see the newest fledgling of their coven, however as this is six sentences, I'm outta here!) 😉
Thanks for stopping by and be sure to check the other participants. I'll be running late this week due to easter, but I'm hoping to actually get to read them on the PC (instead of the phone) so I can actually leave comments this week! woo-hoo!