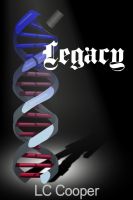 Genres: Adventure/Thriller/Mystery
Blurb: What happens to a restoration mechanic when he stumbles upon an insidious secret left hidden within the shadows of an evolutionary nightmare? "Legacy," a fast-paced adventure novel is the tale of one man's quest to realign the natural course of history. Events rooted in the final frantic days of World War II follow a carefully orchestrated plan that heralds in a new era for humanity.
My Review: It is World War II. A group of American pilots do a routine bombing on a train loading with German weapons, never knowing what it is they're really bombing, or the Reich's true plans.
Fast forward to the 1990's. Collin Roggero works as a restoration mechanic, though his current task doesn't interest him at all. As luck would have it, while looking through the warehouse he stumbles upon something that does; a group of world war II era crates. Inside he finds the parts to a German plane and something else. A mysterious cylinder and a bunch of random parts that he knows don;t belong to the airplane.
And that's when the dreams begin.
Led to his fate by a mysterious "feeling" – call it destiny – Collin has to abandon his current life, and even his identity to unravel an age old mystery and stop a plot that's been over fifty years in the making.
Legacy was a book that was full of twists and turns. LC Cooper does a good job of giving the reader the right information at the right time and maintains a good sense of suspense as well as a conveying a sense of urgency. You want Collin to succeed. You want him to be careful. You want him to watch out behind him…
I don't want to spoil anything, but this book has one of the creepiest "monsters" (though I hesitate to use that word, as it doesn't quite fit) that I've run into in a long time! It will definitely stick with me for a long time to come!
Links: