Hello! My name is Katelina, and welcome to Weekend Character Interviews. Using state of the art-mumbo-jumbo author magic, Jo has temporarily bent the laws of fictional space and time to allow various literary universes to converge long enough for me to ask different characters a few questions. Since I spend a lot of time in the Amaranthine series quizzing vampires on what they're doing, where they're going and why, Jo thought I would be the perfect interviewer.
Today we are interviewing Ker-ris from Barbara Tarn's Sci-Fi/Fantasy stories Technological Angel and Mind Link. And can I just say he's… um… nice looking. *cough* You'll see.
K: Hello Ker-ris! Can you tell me a little about yourself?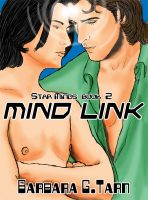 Ker-ris: In Chantal's words (you can read her journal in Technological Angel): Those Sire are real hunks! I mean, Ker-ris is gorgeous too! But he's permanently dazed, as if he were on drugs. Except it's not drugs, but a mind-controlling device the size of a grain of rice. Kol-ian told me it was injected in his brother-in-law's veins on his wedding night. Talk about control freak! I mean, Lin-sun was beautiful, what was she afraid of? Jesus, I should stop drooling over handsome alien men! Now, that was the previous book, if you haven't read it yet, go and get it now. I've been freed since, but according to both my late wife and my brother-in-law, I'm also the sexiest Sire alive, especially when I dance. Hope that will be enough for physical description! *grin*
K: Oh, yeah, I think that will do. *glances towards doorway in case Jorick is eavesdropping*. So, um, where are you from?
Ker-ris:  I'm stuck on Marc'harid (the Sire home planet) for the next 10 years, as I've been included in the Council of Five that took the place of the late Emperor. In Mind Link you'll see me fall in love again, to the happiness of my son, the smartest boy in the universe.
K: In the first book you were minor character, right? How did you go from that to stardom?
Ker-ris: Yes I was a very secondary character in the original story. But being what I am and having finally a face in the Author's mind (she has watched waaay too many Bollywood movies in the past couple of years!), I'm growing in importance as a character. Even my son is getting more room because he's so smart! We're stealing the spotlight from Kol-ian and his crew! *grin* She likes to blame me for her procrastination on other works (such as the Chronicles of the Varian Empire – the last book was late because she was listening to us. And actually, one hasn't been written at all, haha!)… So I'll keep pestering the Sadist Author until she writes also the story of my marriage (a very sad story, but you do like to cry, don't you?)!
K: Well, sometimes I do. How would you say you evolve during the course of the series, besides gaining the spotlight?
Ker-ris: I first show up dazed, but now I'm back in control of my own mind and life. I'm a Sire aristocrat with a very special gift, which means I naturally do something that hasn't been done in half a century – and only in my family, as the last to perform it was my aunt Lisa-mae. The mind link is wonderful, but can be deadly. Still, I think it's something worth dying for.
K:  Do you have an enemy or nemesis? If so, who are they and how did they become an enemy?
Ker-ris: Not me, not really. It's my wicked brother-in-law who has many. And as we happen to be very very very fond of each other, the fallback is on me. Okay, we're in love. There, I said it. So it's his enemy that comes after us in this book.
K: So you're in love with your brother-in-law? I guess that answers whether you're romantically involved or not!
Ker-ris: Yes, with my wicked brother-in-law. I guess I was meant to spend my life with that branch of the Vaurabi… I loved his sister because she was the most beautiful Sire alive. I love him because… I don't know. He's five years younger than me and he did things for all of us I can only dream of. He's both strong and fragile and… well, the mind link did the rest!
K: Do you face a challenge making those around you accept it, or is there a bigger challenge?
Ker-ris: Not at all, the challenge is the mind link. Kol-ian is so traumatized, he almost kills us both.
K: What is the one event that you feel has helped to shape your personality?
Ker-ris: The mind link. Can you tell it's something very important in a telepath's life? *wink*
K: What is the one thing you want the most in the whole world?
Ker-ris: Leave in peace with Kol-ian and Shan-leo (my son). Not going to happen yet, I'm afraid.
K: Authors never let characters have peace! If you could say one thing to your readers, what would it be?
Ker-ris: I'm easy-going and Mansion Shermac is very big, so if you happen to catch a starship that takes you to Marc'harid, feel free to come and visit. You'll meet Shan-leo, Kol-ian and also his crew. And you can see the Falstelo (originally belonging to my family, but now it's under Kol-ian's name – he renounced his birthright, so I gave him a couple of gifts).
K: I just might do that if I ever escape the clutches of my evil author. Speaking of them, if you could say one thing to your author, what would it be?
Ker-ris: Stop torturing me and Kol-ian, please! I know you've got more for us! Have mercy! Kol-ian is right, you're the true Master Sadist!
And with that we're out of time! You can find Ker-ris in Barbara Tarn's Sci-fi/Fantasy Mind Link at Amazon: http://www.amazon.com/dp/B00AQMSFBS
 & Smashwords: http://www.smashwords.com/books/view/267058
Also stay tuned for book 3 – The Slave Trader, or maybe some Star Minds snippets on Barb's blog that will give you insight into the characters past.
And a special thank you to Barbara Tarn for playing along!
If you're an author and would like your character(s) to be interviewed by me, then check out this very cool page that has all the details: