Hello! My name is Katelina, and welcome to Weekend Character Interviews. Using state of the art-mumbo-jumbo author magic, Jo has temporarily bent the laws of fictional space and time to allow various literary universes to converge long enough for me to ask different characters a few questions. Since I spend a lot of time in the Amaranthine series quizzing vampires on what they're doing, where they're going and why, Jo thought I would be the perfect interviewer.
Today we are interviewing John Hendry, who is from Roger Lawrence's horror novel Kongomato.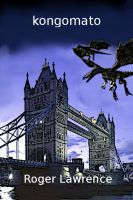 Katelina: Hello John! Can you tell us a little about yourself?
John: I'm an Exo-biologist which is just a fancy name for someone who searches for mythical or just extinct animals. I like the job because I don't have to deal with people too often. I live in London now since I got fired from my job with a university which funded my research. I'm in my mid thirties. I'm no Brad Pitt but the girls seem to like my appearance and I am always keen to be with them when my research allows, which is not often. For some reason they don't really get what I do.
K: Sounds safe enough. Not the kind of job where you have a lot of enemies, is it?
J: My biggest enemies are the government bureaucrats I managed to upset by breaking into that foreign embassy and stealing secrets. Oh, and calling the Prime Minister of Great Britain a rude word couldn't have helped much. Compared to them, the monster currently roaming the skies of London and eating people, is relatively harmless.
K: Whoa! Monster? There's a monster?
J: Yes, that's what the Kongomato of the title is. A rather large, nasty monster.
K: Wow, so you're fighting a monster?
J: Yes. I'm trying to end this madness before it's too late by working with someone I hate and cannot trust while trying to work out what is really going on behind the scenes.
K: Do you hate the monster?
J: No not really. He's just looking for food. But if it comes near me and I've got a gun, I'll kill it.
K: So, you mentioned government bureaucrats as enemies. I imagine there's some kind of government cover up – or else it's all their fault?
J:…
K: Are you saying you really don't understand what the government is doing?
J: No I really don't. Our government wouldn't do anything to hurt us, then cover it up – would they?
K: Ah. I see. But you're fighting the monster and fighting the government. Doesn't that make you a hero?
J: To which I'd answer yes, but in reality, not really. I'm terrified most of the time.
K: Well there's nothing wrong with that. I'm scared a lot of the time, and I'm just dealing with vampires! I don't suppose there's any time for a romance in all this, is there?
J: I have to work with my ex-girlfriend, whom it turns out, was working for someone else against me. So I never thought I would meet another girl that I could love. But now I've met a young doctor called Annie. My friend Carl has a thing for her. I can't help myself. I think there could be something between us but it's going to hurt Carl.
K: Man, nothing in your life is easy! What would you say is the one event that has helped to shape who you are?
J: My mum and dad's money. I never had to work really hard and a result, I'm very selfish. It's a bad trait and I hate it in myself.
K: Ah. Well how do you evolve during the story?
J: I'm a user. I've been doing it for years and hate myself for it. So now I am trying very hard to stop it and repay my friend, Carl's kindness. I think I'm managing it, some of the time.
K: Well that's good, right? You're getting better. And you recognize the problems. They say that's the first step to recovery. What would you say is the one thing you want the most in the world?
J: My own research project, where I discover the remains of the most fantastic mythical creature. A bit childish, I know, but we all have our dreams.
K: Nothing wrong with that. At least it's a goal. It looks like we're almost out of time. If you could say one thing to your readers, what would it be?
J: If you have true friends, don't abuse them. I've done it all my life and now I don't know who I can trust.
K: And finally, If you could say one thing to your author, what would it be?
J: I'd say: Can I have a bit more time with Annie. And why couldn't she live in a different block of flats from Carl, and why did he have to know her? And of course – if you're thinking of it – please don't kill me off.
K: And with that we're out of time. You can find John in Roger Lawrence's Kongomato available at
Amazon: http://www.amazon.com/Kongomato-ebook/dp/B008GMVZ08/
Smashwords: https://www.smashwords.com/books/view/276611
And a special thank you to Roger Lawrence for playing along!
If you're an author and would like your character(s) to be interviewed by me, then check out this very cool page that has all the details: